He announced that he's ending his leave of absence.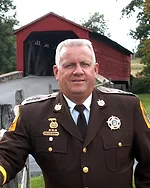 Frederick County Sheriff Chuck Jenkins (photo from FCSO Website)
Frederick, Md KM) He's back. . Frederick County Sheriff Chuck Jenkins announced Monday that he's retuning to full duty status as Sheriff. He made that announcement in a memo to County Executive Jessica Fitzwater and the County Council.
"Effective immediately, I am formally ending my administrative leave of absence that began on April 14th, 2023, pursuant to may letter dated April 13th, 2023," Jenkins said in his memo. "I am resuming full duties as heard of the agency, including management and oversight of the day-to-day operations and all administrative and signature responsibilities."
Jenkins took a leave of absence from his job after he and local businessman Robert Krop were indicted in April for conspiracy and making false statements to illegally acquire machine guns. Both men have pleaded not guilty.
As part of his release before trial, the Sheriff was ordered  to surrender any firearms. Jenkins has appealed that decision, claiming he needs his department-issued weapons  because of threats made against him.
By Kevin McManus