That order has issued by a US District Court Judge.
That order has bee  issued by a US District Court Judge.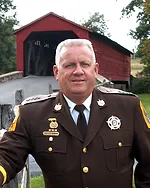 Frederick County Sheriff Chuck Jenkins (Photo from FCSO Website)  
Baltimore, Md. (KM) There will be separate trials for Frederick County Sheriff Chuck Jenkins and local Businessman Robert Krop. An order issued by US District Court Judge Stephanie Gallagher cites a "voluntary statement" made by Jenkins to law enforcement "implicating Mister Krop in what the Government alleges to be criminal activity."
Judge Gallagher said in her order that after "considering the parties;' arguments, this Court is persuaded that the interests of justice require both defendant's motions for severance be granted." Federal prosecutors had wanted both men to be tried at the same time.
Jenkins and Krop were indicted in April for conspiracy and making false statements to illegally acquire machine guns. Both men have pleaded not guilty.
No trial dates have been scheduled.
Following his indictment, Sheriff Jenkins took a leave of absence from his job as the county's top law enforcement officer. But this week, he announced in a memo to the County Executive and the County Council that he would be returning to his position as Sheriff, although he had been performing a lot of duties despite being on leave.
As part of their pre-trial release, Jenkins and Krop were told to surrender any firearms. Jenkins is appealing that decision, saying he needs his department-issued handguns because has received threats against his life.
By Kevin McManus