A young man was found injured and lying in a roadway.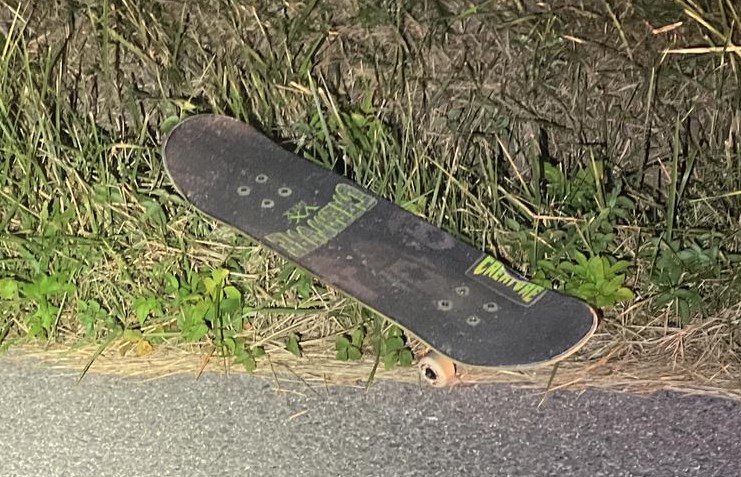 A skateboard found on Irishtown Rd. in Emmitsburg.  (Photo from Frederick County Sheriff's Office)
Emmitsburg, Md (KM) The public's help is needed in an investigation by the Frederick County Sheriff's Office.
Just after midnight Friday, deputes were dispatched to the 17500 block of Irishtown Road in Emmitsburg for an individual possibly struck by a motor vehicle. A passing motorist noticed a young man lying near a skateboard unconscious in the roadway.
Authorities arriving at the scene say the individual, a man approximately 25 years of age, was in and out of consciousness and could not provide any information. He had no identification and his phone was locked.
The young man  was medivaced by a  Maryland State Police helicopter to University Medical Center and is expected to survive his injuries.
The Sheriff's Office says it has learned the individual's identity, and he is currently in stable condition.
Deputies say there was no evidence at the scene of anyone being struck by a vehicle such as skid marks or parts from a vehicle. But there were yaw marks from the man's skateboard in the roadway. . They say this person's  injuries were more consistent with a hard fall while coming down a hill.
Anyone who has information which could help in this investigation is asked to contact the Sheriff's Office. They can call 301-600-2071; reference case #23-094849.
By Kevin McManus