Crews will be working to curb rockslides in the stretch of the highway.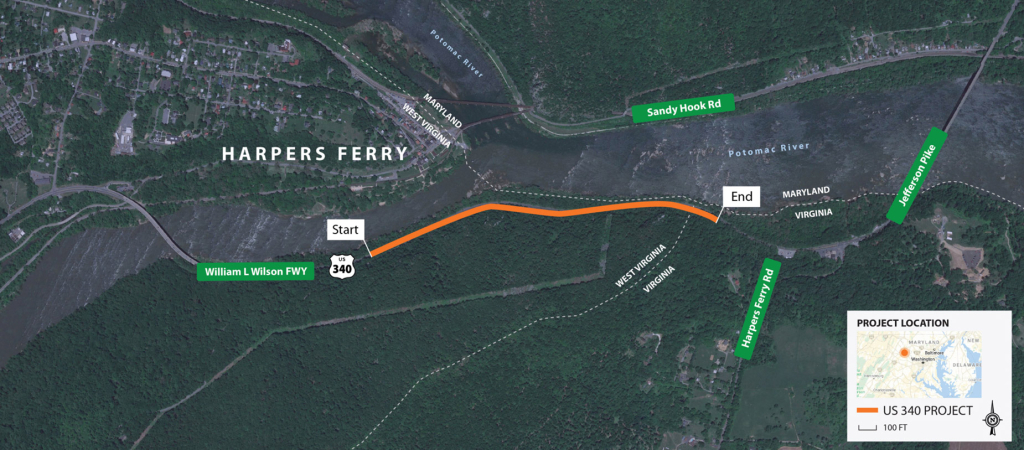 Map of US 340 Project In West Virginia (From WV Division of Highways)
Harpers Ferry, WV (KM) A major roadway in West Virginia which also carries traffic from Virginia and Maryland is scheduled to close next week. Lee Thorne, the District Engineer for the West Virginia Division of Highways for District 5, which includes the Eastern Panhandle, says US 340 near Harpers Ferry will be closed starting on Tuesday, September 12th. He says crews will be removing rock from above the highway and installing rockslide barriers.
"This project near Harpers Ferry is designed to stabilize a rock fall prone section of mountain that's high above the route," Thorne says.
Traffic will be detoured. "Posted detour around the project area during the work will be West Virginia 9, Virginia State Route 9 and Virginia State Route 671," says Thorne.
US 340 is expected to reopen to traffic on December 12th.
Thorne says US 340 near Harpers Ferry is a heavily traveled highway. "US 340 is a high traffic volume corridor carrying 24,500 vehicles a day which includes commuter and truck traffic from West Virginia, Virginia and Maryland," he says.
By Kevin McManus