Plans are to use it to house several Frederick County Government agencies.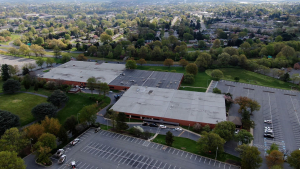 Prospect Center, Himes Ave., Frederick.  (Photo from Frederick County Government)  
Frederick, Md (KM) Progress is being made in converting the Prospect Center on Himes Avenue in Frederick into a County Government office facility, according to an update provided to the Council this week.
The County purchased the building in 2021 for $20 million with plans to house a number of government agencies, including the  911 center, and, at one time, a site for a new public library on the west side of Frederick. That new library is planned for a park along McCain Drive.
Since the county bought it, the roof has been replaced, and the fire alarms and sprinkler systems have been upgraded. Areas have been identified for  use by county government agencies, including flex workspace, trainings, blood drivers, fire and rescue training, early voting and other uses, according to briefing materials provided to the Council.
Chief Financial Officer Dan Lewis told the Council that the county is trying to cram as many agencies as possible in that building. "We got a main facility design for the bulk of the facility. But then we are also designing the 911 call center, the data center that would be part of that facility, and the micro-grid,:" he said. "There's special requirements for those specific aspects and they're being done separately because of those requirements that are tied to that."
In addition to the 911 center, other agencies which will be placed at the Prospect Center include Interagency Information Technology, the Division of Family Services, including the Office for Children and Families and the Child Advocacy Center.  Some offices from the Health Department will be relocated: the Developmental Center; Health Care Connections; School Health and the Dental Program. Also, the Scott Key Center. Human Resources, and Housing and Community Development will be housed at the Prospect Center..
The Department of Facilities Services has already moved into the Prospect Center.
During the presentation, Councilman Jerry Donald suggested a child care center be located at that site. He said it would be beneficial to employees who will work there. "When we talked with the 911 call takers, the difficulty they have with child care and working those odd hours," he said.
Councilwoman MC Keegan-Ayer also supports a child care center at the facility. "I don't think  that the county wants to get into the business of running a child care center," she said. "But perhaps it's something that we need to entice someone in the private sector to do because there would be a ready supply of people who needed it."
One of the arguments for purchasing this facility was that it would on save on capital construction costs. There would not need to be as much money expended to locate a site, and construct a building to house agency personnel. Councilman Steve McKay noted that the county is putting forward $30-million toward retrofitting this building. "I'm hoping,  though that we're providing that service, but also realizing cost savings to offset the $30-million we're putting into this," he said.
The County Staff told the Council it could be 18 months to two years before county employees could start moving into this facility.
By Kevin McManus