Some is coming to Frederick County.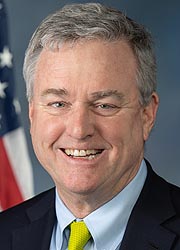 Representative David Trone
Washington DC (KM) More than $43-million in Emergency Connectivity Funding has been awarded to schools and libraries in Maryland's Sixth Congressional District, including Frederick County.
The Emergency Connectivity funds come from the American Rescue Plan Act. Sixth District Representative David Trone says these funds will help close the "homework gap" for students who lack reliable broadband and computer access.
The Frederick County School System is receiving $1,165,644, and the local Public Library System is getting $40,440, according to Representative Trone's Office.
Other recipients of Emergency Connectivity Funding include  Montgomery, Washington and Garrett County Public Schools.
"In Congress, my number one job is to ensure that all my constituents have the resources needed to thrive, and access to education is no exception. As the proud son of a public school teacher, I proudly helped pass the American Rescue Plan so that our students can get on line and succeed in grade-school curriculums," said Representative Trone, in a statement. "The Emergency Connectivity Funding breaks down learning barriers that many low income students face, giving our nation's future leaders the high-quality education they deserve."
The total amount of this batch of Emergency Connectivity Funding is $43,428,936.
By Kevin McManus