She will compete with six other candidates.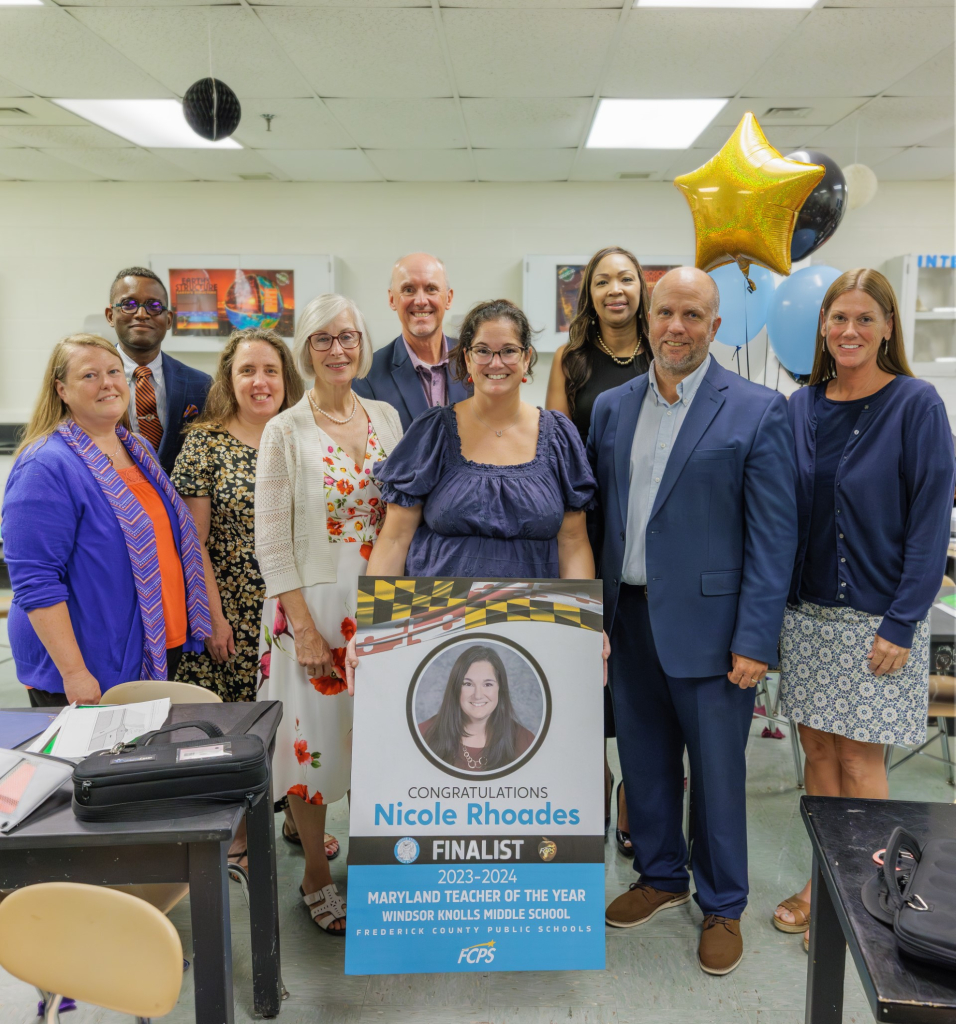 L-R:  FCPS Secondary Science Teacher Specialist Carrie Crawford; FSCP Associate Superintendent Dr. Eric Louers-Phillips; FCPS Secondary Science Curriculum Specialist Colleen Beall; Board Ed Member Karen Yoho; Board of Ed Vice President Dean Rose; 2023 Teacher of the Year Nicole Rhodes; FPCS Superintendent Dr. Cheryl Dyson; WIndsor Knoll Middle School Principal  Brian Vasquenza; Windsor Knolls Assistant Principal Beth Lindstrom. (Photo from FCPS)
Frederick, Md (KM) A Frederick County Public School teacher is one of seven finalists selected for Maryland Teacher of the Year for 2023 to 2024.  . Nicole Rhodes, a science teacher at Windsor Knolls Middle School, was surprised when she was told about the news  on Monday.
Rhodes has taught seventh grade science at Windsor Knolls Middle School for 13 years. She  also organized the first school-wide science fair, STEM (Science, Technology, Engineering, Math) career day and education opportunities at the Chesapeake Bay Foundation.
"We're so proud of Ms Rhodes and this impressive accomplishment,": said Superintendent Dr. Cheryl Dyson, in a statement. "This is a significant honor for a teacher who serves as a leader at her school, supports science teachers across the district and inspires so many  students."
Rhodes is the sixth middle school teacher in Frederick County to be nominated Teacher of the Year, and the first from Windsor Knolls Middle School. It's also the second consecutive year a Frederick County Public School Teacher has been nominated for Maryland Teacher of the Year. Last year, Jonathan Kurtz was nominated for this honor. He is the coordinator of the Academy of Fine Arts for Governor Thomas Johnson High School.
In addition to earning the admiration of her students and colleagues, Rhodes has also achieved National Board Certification in Early Adolescent Science in 2013, and coaches other teachers in pursuing National Board Certification.
Along with that, Rhodes is also an Excellence in Gifted and Talented Education Award winner, and a Presidential Award for Excellence in Mathematics and Science Teacher nominee.
These seven finalists were announced on Monday by the Maryland State Department of Education and the Maryland State Board of Education. .
The Teacher of the Year will be announced at a gala and dinner at Martin's West In Baltimore on Friday, October 13th. The winner will go on to compete in the National Teacher of the Year competition. The national winner will be made public in April.
By Kevin McManus