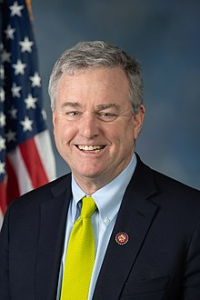 Frederick, Md. (BW)- Frederick County Sheriff Chuck Jenkins responded to Sixth District Congressman David Trone's letter calling for the end of the 287G Program.
Trone sent a letter to media outlets last week advocating for the 287G Program in Frederick County to be stopped. The letter was sent on Friday, Sept. 8 but Trone asked media outlets to not release any publications until 12:01 a.m. on Tuesday, Sept. 12.
He said in the letter that the Frederick County Sheriff's Office violated civil rights and displayed patterns of discrimination.
Jenkins joined WFMD's Morning News Express on Wednesday, Sept. 13.
"There's no law enforcement officer in Frederick, in this county, I don't care what agency… no one is profiling, no one is discriminatory, no one is doing anything on the street that has anything to do with 287G, nor are they making traffic stops because of their race or ethnicity," Jenkins said.
Jenkins said the 287G program has assisted in removing around 1700 criminals from the streets of Frederick and surrounding areas.
Jenkins said this letter is strictly a political move for Trone to gain voters for his 2024 campaign for Senate and that Trone has never visited the jail or educated himself on the 287G program.
Jenkins added Trone also does not live in the district he represents.
Frederick County's 287G Program has also received recognition for being a 'model' program.
The 287G Program allows local law enforcement officers to review the immigration status of jailed individuals. If an inmate is flagged for being an illegal immigrant, they may be turned over to Immigrations and Customs Enforcement (ICE).