His current contract expires in June, 2024.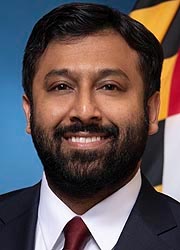 Dr. Mohammed Choudhury  (Photo from State of Maryland)
ANNAPOLIS, Md. (AP) — Maryland's superintendent of schools is withdrawing his request for a second term, he and the state school board announced Friday.
The announcement came as renewal of Mohammed Choudhury's contract, which expires in June 2024, faced mounting scrutiny because of his management style.
"During the remainder of his tenure, the Superintendent will work with the State Board and other stakeholders to continue the critical work of leading education transformation in Maryland," the joint statement said.
Gov. Wes Moore thanked Choudhury for leading the Maryland State Department of Education "admirably during an unprecedented global pandemic and a transformative time for our state's education system."
"As MSDE looks for our next superintendent, I expect the board to ensure we find an exceptional leader who will commit to transparency, accountability, and partnership with all stakeholders to improve education outcomes in every corner of Maryland. Our educators, students, communities, and families deserve nothing less," the governor, a Democrat, said in a statement.
Choudhury became superintendent in July 2021 as the state was embarking on implementing the Blueprint for Maryland's Future, a sweeping pre-K through 12 reform measure that is set to invest billions of dollars in education over a decade.
The blueprint focuses on expanding early childhood education, increasing teachers' salaries, and providing aid to help struggling schools adequately prepare students for college and careers.
"The State Board is grateful to Superintendent Choudhury for his leadership in Maryland through the first phase of educational transformation in the State," the joint statement said, adding that over the past two years, he rebuilt the department for the blueprint era and focused on creating educational equity.
Choudhury's contract renewal had come under increasing questioning in recent weeks. State lawmakers complained about a lack of communication with him as Maryland was embarking on enormous investments in K-12 education.
"It was clear that Choudhury was not the right person to lead Maryland's Public Schools system," Senate Minority Leader Steve Hershey and Senate Minority Whip Justin Ready, who are both Republicans, said in a statement. "His management style as well as his lack of transparency and accessibility were extremely concerning."
The board said it intends to present plans for transition and a national search by its upcoming meeting Sept. 26.
By The Associated Press