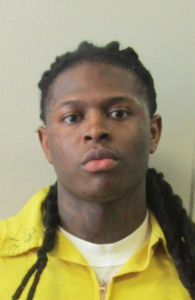 (Photo Courtesy of Virginia State Police Facebook page)
Montgomery County, Md. (BW)- An escaped convict from a Virginia prison has been identified as the suspect in an armed carjacking in Montgomery County in September.
The suspect is 21-year-old Naseem Roulack.
Montgomery County Police responded to the 400 block of W. Deer Park Road just after midnight on Friday, Sept 1 for a report of an armed carjacking and kidnapping.
An investigation revealed that Roulack approached a woman getting out of her 2016 blue Nissan Sentra when he pointed a gun at her and demanded her car. He then forced the victim into the back seat of the vehicle before driving several blocks and forcing her to get out.
He escaped from the Virginia Department of Corrections on Aug 12 while seeking medical treatment at St. Mary's Hospital. He was sentenced to 13 years in prison for aggravated malicious wounding, grand larceny and hit and run.
Law enforcement is seeking help from the public in locating Roulack. He is described as a black male, five foot six inches tall, weighing about 225 pounds. He has black hair, brown eyes and tattoos on his right eye, left cheek and neck.
A cash reward will be given to anyone who has information that leads to the apprehension of Roulack. To share information contract Crime Solvers of Montgomery County at 1-866-411-8477.