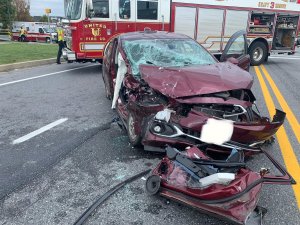 (Photo Courtesy of Frederick County Fire and Rescue Facebook page)
FREDERICK, Md. (From the Frederick County Sheriff's Office)- "On Oct. 18, at approximately 1:36 p.m., Frederick County Sheriff's Office (FCSO) deputies responded to a call for service at the intersection of Buckeystown Pike (Route 85) and Executive Way for a reported two-vehicle collision with serious injury. As a result of that crash, one person died, and another is currently at a trauma center with serious injury.
Emergency Medical Services (EMS) personnel transported Sotir Markoff, age 20, of Buckeystown, Maryland, to the R. Adams Cowley Shock Trauma Center in Baltimore where he later died from his injuries. FCSO deputies made all next of kin notifications.
EMS transported the driver and the passenger from the other vehicle to Frederick Health Hospital with non-life-threatening injuries. EMS personnel then transferred the passenger to a trauma center for serious injury.
Preliminary investigation has found that vehicle one was heading northbound on Buckeystown Pike and attempted to turn left on to Executive Way. Vehicle two was heading southbound on Buckeystown Pike intending to continue southbound through the intersection with Executive Way. The vehicles collided in the intersection.
The investigation continues into this crash and currently there are no signs of impairment of either driver and excessive speed is not a factor.
"This is now the second crash with a fatality in this vicinity in the last two weeks," said FCSO Corporal Nathan Rector, Traffic Unit team member. "With new traffic patterns, expansion of the lanes, and increasing traffic volumes on Route 85, we remind drivers to pay attention to all traffic signals, signs, and the rules of the road."
On Oct. 5, at approximately 10:15 a.m., FCSO deputies responded to a two-vehicle personal injury crash at the intersection on Buckeystown Pike and the entrance to the Westview Shopping Center. The preliminary investigation shows that a 2010 Honda CRV was heading northbound on Buckeystown Pike and attempted a left turn into the shopping center. A 2013 Mack Truck traveling southbound through the intersection at the same time struck the Honda in the intersection.
EMS personnel responded and attempted lifesaving measures, however, Darlene Grantham, age 76, of Frederick, died of injuries sustained in the crash."