One was trying to leave the country; the other was deported back to the US.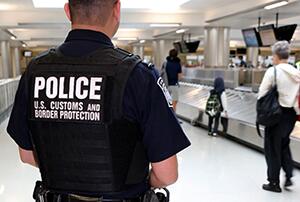 Washington, DC (KM) Officers with the US Customs and Border Protection took two individuals in custody recently who are wanted by the Montgomery County Police.
Adam Aguilar Cruz, 28, from El Salvador, was arrested on Friday, November 3rd at Washington Dulles International Airport. He is wanted for felony strong arm robbery, 2nd-degree rape, 3rd-degree sex offense and 2nd-degree assault.
Federal authorities say Aguilar Cruz is in the US illegally, and was trying flee the country on board a flight to El Salvador when he was nabbed. CBP officers brought Aguilar Cruz back to their inspection station, where they say they confirmed his identity, and that the warrants against him were active.
Also arrested on November 3rd was Frank Miguel Morillo, 25, who' s wanted for felony 1st-degree rape. US Customs and Border Protection say Morillo was deported from Colombia, and brought to Dulles Airport by Colombian immigration officials. Officers also confirmed Morillo's identity, and that he had active warrants against him. He's a naturalized American citizen from the Dominican Republic.
Both men have been turned over to the Metropolitan Washington Airports Authority Police.
By Kevin McManus