He was served with a criminal summons.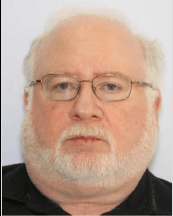 Andrew Buckley Rosenfeld, (Photo from Frederick Police Department)
Frederick, Md (KM) A Frederick man is charged with ten counts of possession of child pornography. Andrew Buckley Rosenfeld, 61, was served with a criminal summons by the District Court Commissioner's Office.
Frederick Police say they began an investigation in February into Rosenfeld involving internet crimes against children. That led to the Department's Major Crimes Division serving a search and seizure warrant on Rosenfeld's home on  September 15th, 2023.
Police say this investigation was a coordinated joint effort between the Frederick Police and the State's Attorney's Office.
Rosenfeld has been a professor of music at Mount Saint Mary's University since 1997.  A spokesman for the school says Professor Rosenfeld has been placed on administrative leave, and will remain in that capacity until the University ;looks into this matter further.
By Kevin McManus