They are some of the most valuable law enforcement assets on the street.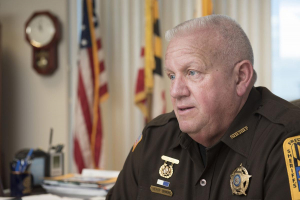 Frederick, Md (NS) After some debate, the Frederick County Sheriff's Office has announced 16 School Resource Officers (SROs) for the coming school year.
Sheriff Chuck Jenkins joined WFMD's Morning News Express and said it is Maryland state law that these officers be in schools.
He said they are very important for the safety of students and staff and that they are, "some of the most valuable law enforcement assets we put on the street."
Sheriff Jenkins says these SROs come from diverse backgrounds with a lot of experience, but importantly these officers applied for the job because they wanted to be there for the schools.
On the debate of the need for SROs he said, "In this day and age, if you think for one minute that there's any benefit from pulling deputies out of these schools you are sadly mistaken."
The School Resource Officer program assigns law enforcement officers in designated Frederick County High Schools and school feeders with the goal of creating and maintaining a safe, secure, and orderly learning environment for students and faculty members.