These are people who had worked for the US military in the war against the Taliban.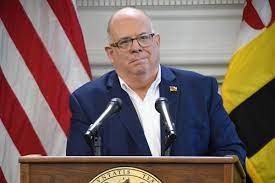 Annapolis, Md (KM) Maryland is expected to receive at least 180 refugees from Afghanistan. That's according to Governor Larry Hogan, who says the state stands ready.
"Many of these Afghan citizens, our allies, bravely risked their lives to provide invaluable support for many years to our efforts as interpreters and support staff," he said. "And we have a moral obligation to help them.
The US military had been in Afghanistan since 2001 following  the 9-11 attacks. fighting the Taliban. The Americans had been training and equipping the Afghanis to fight the Taliban on their own. But they were beaten back or fled as the Taliban moved to retake the country, capturing that country's capital,  Kabul.
During the the time the US was in Afghanistan, many of its citizens provided services to the American military such as translation, interpretation, security and transportation. Many of these individuals were afraid for the safety of  themselves and their families as the Taliban closed in.
"For their service, these allies, their immediate families, are eligible to receive Special Immigrant Visas to the United States," the Governor says. "Maryland already expects to receive at 180 Afghan citizens as part of Operation Allies Refuges."
The refuges will be assisted by the Maryland Office of Refugees and Asylee, which is a division of the Department of Human Services. The Office has helped form than  40,000 refuges make Maryland their home.
"Maryland receives more of these  SIV's than nearly any other state, and we stand ready and willing to do even more," Hogan says. "It's the least we can do."
By Kevin McManus