The purpose is to celebrate those who have freed themselves from substance use & mental health disorders.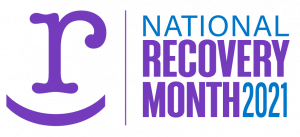 Frederick, Md (KM) The Frederick County Health Department is observing National Recovery Month in September. Jeffery Thompson, the Recovery Support Manager for the Department, says the purpose is to celebrate the individuals who have recovered from substance use and mental health disorders.
"It is increases awareness and understanding of mental and substance abuse disorder," he says. "And it kind of works to promote the new, innovative, evidence based treatment and recovery practices, meaning our providers in the community."
The theme for this year is "Recovery is for Everyone: Every Person, Every Family, Every Community."
Thompson says treatments for addictions have advanced beyond the one-size-fits-all approach. "Recovery has become so innovative, and it's the multiple pathways to recovery that's being offered to individuals now," he says. "They have their choices of what pathway they can choose from."
But despite the progress, there's still a stigma associated with substance use and mental health disorders, including one that it only affects those who live in less well off communities. "And we want everyone struggling with addictions to feel comfortable about opening up about their recovery, about their addictions, their issues,": says Thompson. "Opening up allows people the first step to live a better life and a sober life."
He says anyone who wants information on where to go for help for their addictions or mental health disorders can go to the Health Department's website. (health.frederickcounty.md.gov/131/Behavioral-Health-Services) For mental health services, go to health.frederickcountymd.gov/515/Mental-Health-Services.
As part of National Recovery Month, there will be virtual celebrations on September 17th and the 18th. For more information, e-mail Thompson at jthompson2@frederickcountymd.gov.
Thompson says the Health Department's building will be lit with purple lights during September. Purple is associated with Recovery Month.
By Kevin McManus