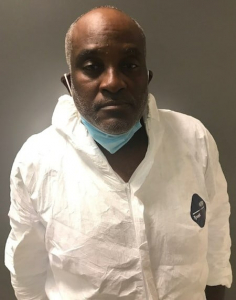 Police found the suspect naked at the scene
Germantown, Md. – Detectives from the Montgomery County Police Department arrested and charged Gary Wayne Savage, age 58, with first-degree murder for the September 3 homicide on Baileys Court of an adult male from Germantown.
On Friday, September 3, at approximately 4:35 p.m., officers responded to the area of Baileys Court and Baileys Lane for the report of a shooting.
When officers arrived, Savage was completely unclothed. Officers placed Savage into custody without incident.
Officers found an adult male victim suffering from apparent gunshot wounds. Officers and Fire and Rescue personnel provided first aid to the victim who was then pronounced deceased at the scene. A firearm was recovered on scene.
Savage was transported to the Central Processing Unit and charged with first-degree murder. Savage is held without bond. His bond review will be on Tuesday, September 7. An autopsy will determine cause and manner of death.