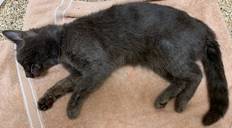 Anyone who has had exposure to this cat is asked to contact their physician.
Frederick, Md (KM) Frederick County Animal Control says a cat collected from the Brunswick Family Campground last Friday has tested positive for rabies.
The cat is described as a solid gray short hair with a frayed and sparkly pink collar. Officials It had been scratching and biting people at the campgrounds before Animal Control Officers picked it up.
Anyone who has had contact with this cat between August 24th and September 3rd is asked to consult with their doctor, and notify the Health Department's Community Health Services Office at 301-600-3342. . Many of those who were exposed to the cat were trying to get its legs out of its collar.
Residents whose pets may have had contact with this cat are encouraged to consult with their veterinarian and report it to the Health Department's Environmental Health Office at 301-600-1717.
The Health Department says rabies is a viral disease which infects mammals. It's spread through the saliva of infected animals, mostly from a bite. Symptoms of rabies in animals are fear of water, excessive salivation, failure to eat or drink, limping, unusually friendly or aggressive behavior, and/or other behaviors such as nocturnal animals coming out during the daytime.
Health officials say rabies is nearly always fatal to humans.
"Mammals, such as cats, can be infected with the rabies virus so do not touch or play with unknown animals, and make sure your pets are vaccinated," says Barry Glotfelty, Director of the County Health Department's Environmental Health Services Office.
If your pets have had contact with a stray or wild animal, contact Frederick County Animal Control at 301-600-1544.
By Kevin McManus