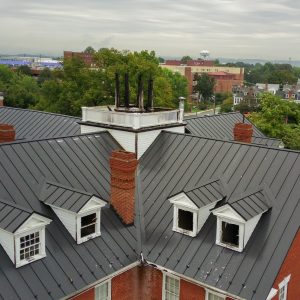 No injuries were reported.
Frederick, Md (KM) There were no injuries from a fire at Hood College Thursday morning.
Frederick County Fire and Rescue says crews were dispatched at around 1:49 AM to the 500 block of Brodbeck Drive for a building fire. Minutes later upon their approval, fire fighters saw flames coming from the cupola of Brodbeck Music Hall.
A second alarm was sounded, and the Rapid Intervention Dispatch was called to the scene. Personnel worked with Hood College staff to empty the building and evacuate nearby Smith Hall.
It took 75 fire fighters one hour to get the flames under control. Crews remained on the scene for another hour to extinguish hot spots, and do overhaul.
Protective coverings were placed over the organ, piano and other instruments to protect them from water damage.
The Frederick County Fire Marshal's Office is investigating.