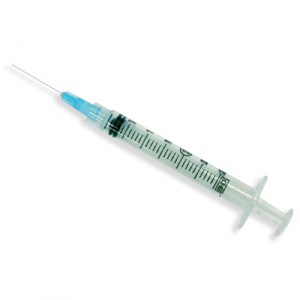 But she still encourages residents to vaccinated against the coronavirus.
Frederick, Md (KM) It doesn't happen very often, but there are a few people who have had an adverse reactions to the COVID-19 vaccines. One of them is a Frederick County woman.
This person, who did not want us to reveal her name, said she got the Pfizer vaccine earlier this y ear, and within six hours, she couldn't breathe. She also says she has asthma. "But I'm a one-inhaler every one or two-year type person. And I went from breathing and hiking six miles before that shot to basically not being able to walk to my car without stopping and catching my breath," she says.
She told us she went to her family physician, the emergency room and two pulmonologists. "They put me on steroids and antibiotics. And then two days later I'm back in, and they upped by steroids. And then a day later, I complained again. And they x-rayed my lungs, and said 'oh, the bottom of your lungs collapsed,'" she says.
One pulmonologist recommended bed rest, and that improved her condition a little. "The second pulmonologist that I saw had five-months worth of data, and he said by all means it was an allergic reaction to the vaccine, and never to get the Pfizer vaccine again," this woman said.
WFMD News reached out to the Frederick County Health Department for comment. We told by spokeswoman Rissah Watkins said the Health Department doesn't "have anyone who could speak to this process of investigating reactions to the COVID-19 vaccine."
The News Team also contacted the Maryland Department of Health. We were told by David McCallister, a Public Information Officer for the Office of Preparedness and Response, there was no one available at the time to comment. But he said the Maryland Department of Health works with the US Centers of Disease Control and Prevention and the Vaccine Adverse Event Reporting System, and anyone who has had an adverse reaction to the COVID vaccine to report it to VAERS. He also went on to say in an e-mail that all vaccines can have an adverse reaction, "but the COVID-19 vaccines are life-saving and significantly reduce serious complications, hospitalizations and even death from the virus and its highly contagious variants."
Despite her adverse reaction, the Frederick County woman we spoke with says she hopes to get her second dose of the COVID-19 vaccine by the end of the year. "If they said I could do it today, I would. But currently I can't because my lungs just can't maintain it and they don't know what any of the vaccines would do in my current state," she says.
But she encourages everyone who can to get the COVID-19 vaccine. "I'm a rare case, and other people are rare cases. Because if I look at everyone I do know at work that got it, they are all fine. There's no reason to say why my immune system went into overdrive," she says.
And she also adds: "I think it's a risk that everyone should consider but take. Because I also have friends that didn't get vaccinated and have died," she said.
In addition to Pfizer, there is the Moderna vaccine, which is also a two-dose shot, and the Johnson and Johnson vaccine which is one-dose. The Pfizer vaccine is the only that can be administered to children beginning at the age of 12.
By Kevin McManus