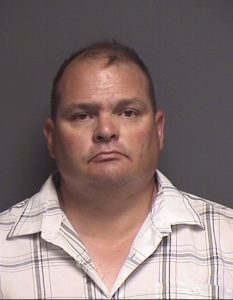 The incident occurred in 2019.
Frederick, MD (KB)   Eric Eugene Mooney, 46, of Westminster, MD appeared in Frederick County Circuit Court on Wednesday morning in front of the Honorable Judge Julie Stevenson Solt. Mooney was sentenced to 25 years in the Division of Corrections, suspending all but 10 years active incarceration for a home invasion that took place in 2019.
According to the press release, Mooney "entered an Alford plea to the charge August 24, 2021. An Alford plea is a type of guilty plea where a defendant does not admit to the criminal act but acknowledges that the evidence presented by the prosecution would be likely to persuade a judge or jury to find the defendant guilty beyond a reasonable doubt. Prior to sentencing, Mooney paid restitution to the victim. In addition to his prison sentence, Mooney will be required to complete 5 years of supervised probation upon release."
The initial incident happened on October 9, 2019 in Mt. Airy, MD. A home invasion was reported to the Frederick County Sheriff's Office, so deputies were dispatched to the home located in the 5300 block of Legion Drive in Mt. Airy. A female victim inside the home notified deputies that a white Ford F-350 pickup truck pulled into her driveway around 8:10am.
According to the press release, "the defendant exited from the truck and approached the home, appearing to be dressed as a utility worker and wearing an 'elderly man' costume mask. The defendant asked the victim 'I want to see if you have power out down there,' seemingly covering his mouth to disguise his voice. The victim responded with 'what?' The victim then opened her storm door, at which point the defendant rushed at the victim, grabbing her by the neck and pushing her back inside the house. He then tied up the victim with zip ties, forced her to give him the combination to open a safe in the home, and made off with approximately $13,000 in currency plus additional valuables."
Mooney was eventually identified as a suspect in June 2020 after sunglasses he wore during the crime were left at the scene and tested positive for his DNA in FBI CODIS (Combined DNA Index System).
State's Attorney Charlie Smith said, "This was an outrageous and horrifying attack on the victim. It was forceful and pre-planned. No one should feel unsafe inside their own home. This sentence was not only warranted but needed to protect the community from this defendant."