The trial of Jordan Hooks could continue through next week.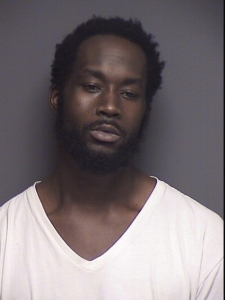 Frederick, MD (KB) The trial of 29-year-old Jordan Hooks got underway in Frederick County Circuit Court on Wednesday after 2 1/2 days of jury selection. States Attorney Charlie Smith said Hooks is charged with 1st-degree murder in the shooting death of 19-year-old Jaemari Anderson.
The incident took place in September of 2020. Authorities say Anderson was shot on a walking trail in the Waterside community.
According to Smith, the first witness called to the stand was the young lady who found Anderson's body.
"After that, the paramedic testified about 911, talked about emergency procedures, also talked about MSP Trooper 3 who took the people to Shock Trauma in Baltimore," explained Smith. "Then finally, we had a Shock Trauma surgeon testify. She found the bullet wound, conducted other assessments about brain function. It was later determined, obviously, that the victim was brain dead and later pronounced by the Office of the Chief Medical Examiner to be deceased."
Smith said the trial could continue through next week.
"What happens is we obviously have the burden to prove a case beyond a reasonable doubt. So we call what we say our 'case in chief.' That's probably going to continue for at least two more days, if not three. When we're done, the State rests and then there are motions that are made," said Smith. "At that point in time should the State prevail which, we anticipate we will, the defense then puts on their witnesses and then of course we go to the closing arguments so we anticipate those happening in the middle of next week."
Two other men are charged with Anderson's murder — Daniel Flythe and Brian Henry. Earlier this month, Henry pleaded guilty to being an accessory after the fact for 1st-degree murder, and is scheduled to be sentenced on February 8th. Prosecutors say they will ask for ten years incarceration.