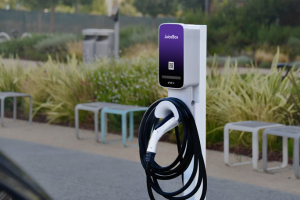 Non-electric vehicles would be prohibited from parking in these slots.
Frederick, Md (KM) The Frederick County Council on Tuesday approved legislation which prohibits non-electric vehicles from parking in spaces reserved for plug-in electric vehicles. The vote was 5-to-2 with Councilmen Phil Dacey and Michael Blue voting "no."
The measure was sponsored by Councilman Kai Hagen who said it will help the county prepare as more electric vehicles are expected to be on the roads in the near future. "This is not intended to be a big deal. But a small way of moving in that direction as we begin to look at all the different ways which we can support this transition to electric vehicles," he said.
Councilman Dacey said the legislation was premature, and the county wait until the state takes action, rather than have hodge-podge of regulations in different counties. "Some counties, you have to plug-in. Some you don't. Some vehicles are subject to certain requirements. And private property is going to be completely different,:" he said.
Council Vice President Michael Blue didn't think the ordinance was necessary. "I would like the bill to be as good or better than was it was, and I think the amendments did help that, "he said. "It is still doesn't help me to get to the final result that it really does much of anything except putting some signs up. I don't think you need my vote. I wish you the best with this."
Some amendments were proposed for the bill a few weeks ago, and a second public hearing was held. The people who testified then were EV drivers who expressed opposition to the legislation, also saying it wasn't necessary.
Councilman Steve McKay voted in favor. "I'm prepared to support this bill. I am," he said. "The objective it's trying to achieve, I think, is a reasonable and proper objective that when you invest in a charging station that the charging station should be used for that purpose."
The ordinance only covers charging stations on county roads and property. The County currently has five charging stations, including one at Winchester Hall.
By Kevin McManus