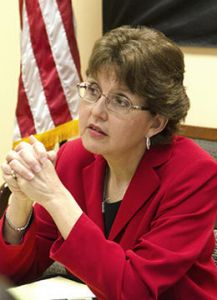 She has come under fire following a US Justice Dept. investigation regarding students with disabilities.
Frederick County Superintendent of Schools Doctor Theresa Alban has been placed on administrative leave. Board of Education President Brad Young confirmed that to WFMD News on Wednesday, but he said he couldn't comment.
Doctor Alban has come under fire recently after a US Department of Justice investigation determined that seclusion and restraint practices were used more often on children with disabilities when they acted up.
Alban has been Superintendent for Frederick County Public Schools since 2011.. Deputy Superintendent Mike Markoe will serve as acting Superintendent
The announcement was made during a Board of Education meeting on Wednesday, where Brad Young was elected President, and Sue Johnson was elected Vice President.
By Kevin McManus