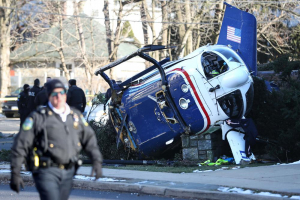 All four occupants, including an infant, survived.
UPPER DARBY, Pa. (AP) — Authorities and a witness say a pilot crash landed a medical helicopter without casualties in a residential area of suburban Philadelphia, miraculously avoiding a web of power lines and buildings as the aircraft fluttered, hit the street and slid into bushes outside a church.
Upper Darby police Superintendent Timothy M. Bernhardt said at a press conference Tuesday that rescue crews rushed to the crash near a church at an intersection in Upper Darby's Drexel Hill neighborhood at about 1 p.m. and helped pull the pilot, two crew members and an infant patient from the aircraft. None of them sustained life-threatening injuries.
The helicopter had taken off from Hagerstown, Md. en route to Children's Hospital in Philadelphia when it went down.
One of the occupants on board the chopper was an infant.
By The Associated Press