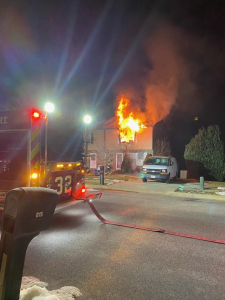 There were no injuries.
Westminster, Md (KM) – Damage is estimated at $150,000 from a house fire early Friday morning in Carroll County.
The Maryland State Fire Marshal's Office says personnel were dispatched at around 2:2 AM to the 800 block of Ewing Drive in Westminster for a two-story townhouse on fire. They spent 35-minutes bringing the flames under control. No one was injured.
Officials say the fire originated in the master bedroom, but the cause remains under investigation.
The fire was discovered by neighbors.
By Kevin McManus