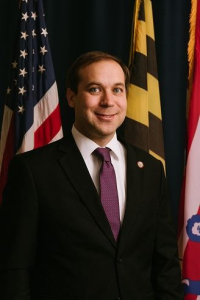 He says it may cost more than the purchase price in future years.
Frederick, Md (KM) – The true costs of the former State Farm building may be higher for Frederick County in the long run, according to Councilman Phil Dacey. In October, 2021, the County Council agreed to buy the building on Oak Street, which is 209,184 square feet, and the 26-acres of land it sits on,  for $20-million. The vote was 5-2 with Dacey and Councilman Kai Hagen voting "no.'
Dacey said the cost of rehab and maintenance could bring up that price tag. "They basically bought this building, and then they said 'trust us, we're going to figure out what we're going to do with it,'": he said. "It's $30-million off the top and just for the roof and the building.. And then $3-million a year for retrofitting the building."
When she announced the county's interest in purchasing the building last year, County Executive Jan Gardner said this facility will provide space for local government agencies which are running out of room. She also said the building could be used as a new 911 center, noting that it once house a call center for United Health Care.
Dacey also said the process was rushed. "If you feel like you need to expand, you do a space needs assessment and you figure out first how many square feet you need and what type of arrangement works for you. And then you have a comprehensive space needs assessment," he said.
Supporters of purchasing the building said the county needed to act quickly before a very short window of opportunity closed.
The building was purchased with part of the county's $74-million surplus. Dacey said that some of that extra money should have been returned to the taxpayers. "It's indictive of the fact that Frederick County has so much money right that they don't know what do with it," he says.
By Kevin McManus