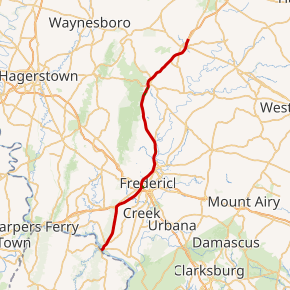 At the top is Route 15 construction funding.
Frederick, Md. (KM) – Full construction for Route 15 remains Frederick County's top transportation priority. That decision was made by the Council on Tuesday through a show of hands. .
The board discussed a proposed letter to be sent to the Maryland Department of Transportation which lists design and construction of Interstate 70 between I-270 and Mount Phillip Road as number one. Councilman Jerry Donald supported that project. "In Frederick County overall, there's a lot of concern about '15," he said. "But there's this huge bottleneck where '270 and '15 dump on to '70 and then it goes to two lanes and then it widens right out. As I understand this project, this is what would fix that."
He also says that federal money could be available for this project. . This is also a priority freight movement project in the Maryland State Freight Plan, and the Metropolitan Washington Council of Government's Freight Priorities list,. and serves as a key link in maintaining and improving the regional supply chain network , according to background materials provided for the meetings.
But Councilman Phil Dacey said full constriction funding for Route 15 should remain number one. "We want to keep the pressure on. This is the ideal time to keep the pressure on for Route 15," he says. "Now that we have design funding, we have to get them to allocate construction through the end of the design project. Otherwise, it will just sit there, it's going to get stale, and who knows when it's going to get funded."
Route 15 improvement project has been the County's top transportation priority for many years. It was recently awarded finding for planning and design.
Placing this project in the state's five-year Consolidated Transportation Plan puts it in line for some state funding for construction.
Council Vice President Michael Blue says Route 15 has been tops on the list, and he wants it to stay that way. "My number one priority –transportation priority–is definitely Route 15..It hasn't changed. . I've lived here since 1969."
Joy Schaefer, Government Affairs Director, says Route 15 is important, but she urged Council members not to forget about I-70, "We all understand that it is our top priority, 15," Schaefer says. "Those '70 lanes are part and parcel of making those 15 lanes work."
The Council also had concerns that the four projects were not listed in order of priority in the letter to be sent to the Maryland Department of Transportation. The list just contained bullet points for each project.. Councilmembers told their staff to number each project indicating its importance.
In addition to full construction funding for Route 15, which already has design funds, and full design and construction funding for I-70 from I-270 to Mount Phillip Road, the other two projects are planning and design funding for Maryland 85 (Buckeystown Pike) from Ballenger Creek to Gulford Drive, which is number three, and project planning funding for Maryland 194 (Woodsboro Pike) to Maryland 26 (Liberty Road) and Devilbiss Bridge Road.
By Kevin McManus