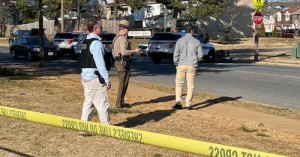 The State's Attorney's Office says the shootings were 'necessary and proportional.'
Frederick, Md. (KM) – The two Frederick Police Officers involved in the shootings along Waverly Drive and Key Parkway last week will not be facing charges. In a statement, State's Attorney Charlie Smith says his office reviewed all the evidence and consulted with Maryland State Police investigators, and concluded that the use of deadly force by the officers against Dominique Lewis was "necessary and proportional."
"Therefore, it was legally justified under Maryland law and the standard put forward by the United States Supreme Court in Graham v. Connor," Smith says. "As a result, no charges will be placed against the officers."
On Friday, February 11th, Officers Bryan Snyder and Kristen Kowalsky were dispatched to the area of Waverly Drive and Key Parkway to investigate a complaint about a suspicious man with a gun. They located Dominique Lewis who was sitting on a utility box. They asked him to show his hands. He ignored them. State Police say Lewis walked away. He then turned and fired a gun at officers. They returned fire.
All three were injured, and medivaced to University of Maryland Shock Trauma in Baltimore. The officers were released after undergoing treatment,. and were recovering at their homes. Lewis remains at the hospital.
Lewis has been charged with two counts each attempted 1st- and attempted 2nd-degree murder and other offenses. Smith says Lewis will have a bond review after he's released from the hospital.
In his statement, Smith also says he cannot release any videos from the scene until the conclusion of the criminal case.
By Kevin McManus