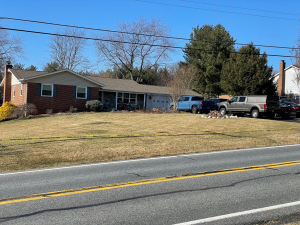 A woman who fired the fatal shot is not being charged at this time.
Frederick, Md. (DG&KM) – The Frederick County Sheriff's Office is continuing its investigation of a fatal shooting in Green Valley on Sunday, but it has released the name of the victim.  He is Danny Ray Sidders, 52, of Orlando, Florida.
At 11 AM Sunday morning, Deputies responded to the 13,200 block of Penn Shop Road in Green Valley reports of a shooting.
After arriving on scene, deputies asked for anyone in the home to come out. A woman walked out of the house and cooperated with police. Deputies entered the home and found Sidders dead.
Deputies transported the woman to the Frederick County Law Enforcement Center for questioning.
Investigators say Sidders and the woman who lived there got into a domestic dispute, and she shot and killed Sidders. They also say SIdders had a protective order that prevented him from visiting that residence.
At this time, the Sheriff's Office says the woman who fired the fatal shot is not being charged pending further investigation.
Anyone who has information on this incident is asked to contact the Sheriff's Office The number to call is 301-600-1046, reference case number 22-021574..