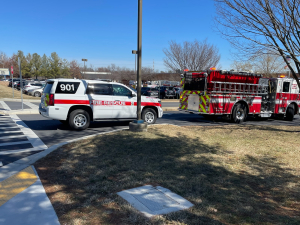 A total of 14 students and staff were treated for minor symptoms.
Frederick, Md. (KM) – Ballenger Creek Middle School was evacuated Friday morning. School administration contacted emergency communications to report a strange odor in the building.
Frederick County fire and rescue personnel, and Sheriff's Deputies responded. The Sheriff's Office says the HAZMAT team did an assessment, and determined an unknown irritant was released inside the building.
Authorities say five students and one staff member were transported to the hospital for treatment. Medics on the scene evaluated seven other students and one staff member for minor symptoms. They refused transport to the hospital for further evaluation.
Authorities say fire and rescue personnel evaluated the school building and determined it to be safe. Ballenger Creek Middle School administration allowed students back into the school.
During this incident, parents and guardians of students were told to wait at nearby Ballenger Creek Park until School System officials allowed them to meet with their children. At around 11:30 AM, those parents and guardians were allowed to meet with their children on school property.
The School System says it kept parents and guardians of Ballenger Creek Middle School students informed through the Find Out First Notification System.
The Sheriff's Office says this incident remains under investigation. That includes reviewing video footage from inside the school. Once a suspect or suspects are identified, criminal charges will be forthcoming.
On Thursday, a 14-year-old student at Urbana High brought a potentially hazardous material to school as part of Tik Tok Challenge. Sheriff Chuck Jenkins says it's uncertain if Friday's incident is related to the one at Urbana High. . But he continues to call social media "the worst thing that's ever happened to society." "One of the bigger issues to me is can't we keep these devices out of schools, to keep these things calm when these situations occur, things don't continue to erupt on social media," he said.
Anyone with information on this case is asked to contact the Sheriff's Office at 301-600-1046, and reference case #22-023648.
By Kevin McManus