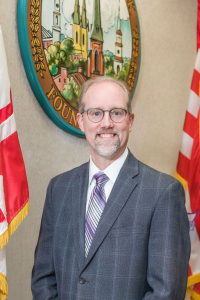 Mayor O'Connor said that in response to Saturday's deadly shooting in downtown.
Frederick, Md. (NS) – There is no uptick in violent crime in Frederick. That's according to Mayor Michael O'Connor who said the murder in downtown on Saturday came from a dispute between two people.
"That happens everywhere. In Frederick, we know we're not immune to it. I think we're really fortunate it was a police officer that actually was the first responder to this. The police officer heard the shot. There are police, they're out, they're doing their job, but being out and doing your job is not in of itself a tool for prevention," said O'Connor.
He joined WFMD's Morning News Express on Tuesday and said he is not aware of any live surveillance cameras in Frederick, but that may soon change.
"We have, as part of our budget, a line item to increase camera placements in public places. We want to be cautious and balance the civil liberties of our residents with an absolute desire to make sure that our streets are a safe place for everyone, and so that's the balance that's trying to strike there," O'Connor explained.
He said the cameras could serve well during large events and in public areas where there has been crime.
At 3 a.m. on Saturday, Michael Isaiah Olaniyi, 26, of Montgomery Village, died after he was shot in the 300 block of North Market Street.