The cause has been deemed undetermined.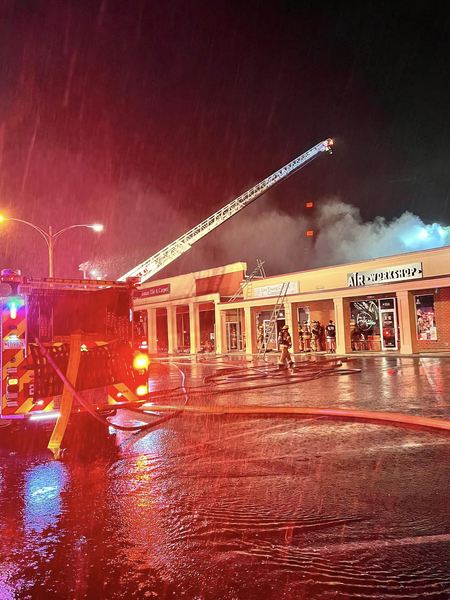 Fire at Potomac Tile & Carpet  (Photo from Frederick County Division of Fire & Rescue Services)
Frederick, Md (KM) There were no injuries from a building fire in Frederick early Wednesday morning.
At around 2:23 AM, fire fighters were dispatched to the Monocacy Village Shopping Center at 918 North East Street for a building fire. Sarah Campbell with the Division of Fire and Rescue Services says personnel saw fire from the roof in the rear area of Potomac Tile and Carpet. . "They were able to go to the interior for a period of time," she says. "But the fire had  traveled quickly through the roof area that it caused a partial roof collapsing, and that led to some of the wall collapsing on the back side of the building."
The fire fighters were able to evacuate safely, she says..
Campbell says the fire went to a second alarm, and the rapid intervention dispatch was called to the scene to provide additional personnel and resources. "It took probably about 75 fire fighters three hours to place fire officially out. They may have been there an additional hour or so, cleaning up, knocking hot spots, performing overhaul, making sure there was nothing else that was still smoldering."
Campbell says fire fighters were able to prevent the flames from spreading to other stores in that shopping center.
The County Fire Marshal's Office, along with the Maryland State Fire Marshal's Office and the Bureau of Alcohol, Tobacco, Firearms and Explosives,  were on the scene most of the day conducting an investigation.    They determined that  the damage is estimated at  $1.5-million. The cause of the fire has been labeled undetermined.
By Kevin McManus