This follows changes in the Fair's schedules.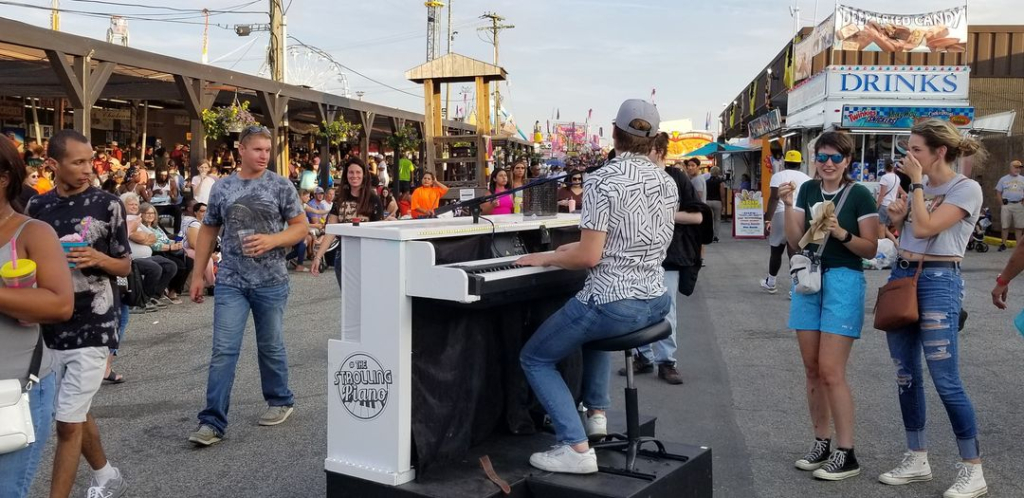 Strolling Piano (Photo From Md. State Fair)
Timonium, Md (KM) The new schedule for the Maryland State Fair has worked out very well, according to General Manager Andy Cashman.
In the past, the State Fair used to be held during the last week of August, with the final day on Labor Day. But this year, the Maryland State Fair is being held on three weekends: August 25th through the 28th; September 1st through the 5th; and the final weekend, September 8th through the 11th.
Cashman says so far so good. "The weather's been beautiful, and we've had great crowds," he says. "Our numbers are ahead of last year's and we haven't had the last weekend yet."
Last year, Cashman says more than 500,000 people attended the Maryland State Fair. He says so far this year, those numbers have surpassed last year's totals.
Cashman says the State Fair draws visitors from all over Maryland, and some surrounding states like Pennsylvania. "We had somebody here the other day I talked to from Harrington, Delaware. We've had a lot of folks from Frederick and Washington Counties, and a lot of exhibitors who have shown their animals," he says.
They come because the Maryland State Fair is much different from a theme park such as Six Flags America or Hershey Park. "We do have the livestock and the agriculture. We also have horse racing which draws people. And we have the midway and rides and all that," says Cashman.
On Thursday beginning 7:00 PM, the J-Bar-W Ranch from Frederick County  will hold the Battle of the Beasts Professional Bull Riding and Cowgirl Barrel Racing.
Over the weekend, there will be some musical acts. Rap Superstar Nelly will appear on Friday, September 9th beginning at 7:30 PM. Gates will open at 6:30 PM. Country music sensations Niko Moon and Lauren Alaina will be performing. on Saturday, September 10th  beginning at 7:30 PM, with gates opening at 6:30 PM. And on Sunday, September 11th, the legendary rock band Styx will take the stage. The show begins at 6:30 PM; gates open at 5:30 PM.
Other attractions at the Maryland State Fair include an Agricadabra Magic Show; Pretty Bird Paradise; Swifty Swine Racing Pigs; a birthing center; Odyssey Axe Throwing; Paul Bunyan Lumberjack Show; the Strolling Piano; Chesapeake Craft Brew Garden; and other exhibits.
For more information, call the Fair at 410-252-0200, ext. 227; or go on line to www.marylandstatefair.com.
The Great Frederick Fair begins next Friday, September 16th, and continues through Saturday, September 24th.
By Kevin McManus