He recently won the  'Show Me $1,000,00.' Md. Lottery Game.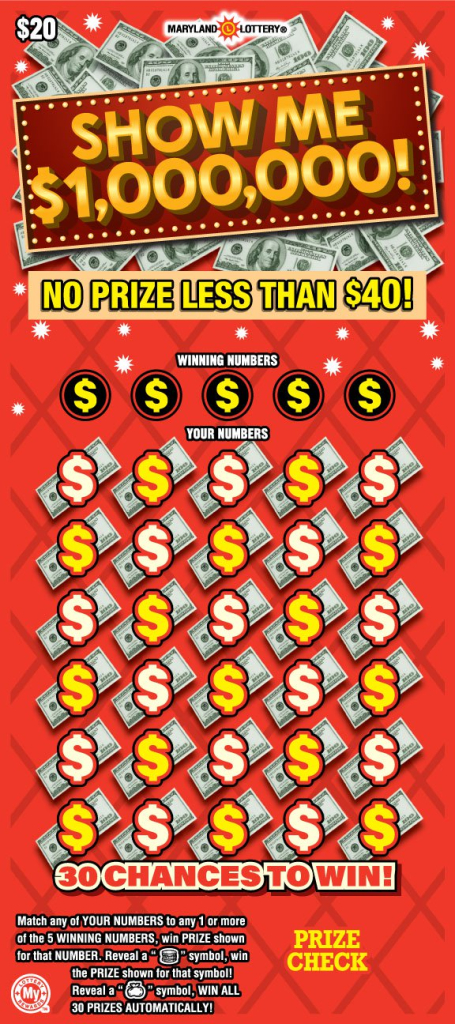 Show Me $1-Million ticket
Baltimore, Md (KM) A 73-year-old Frederick County man is the state's newest millionaire. The Maryland Lottery says the man won $1-million dollars in the :"Show Me One-Million Dollars" game. The winner wishes to remain anonymous.
He tells Lottery officials he pulled into the Sheetz store at 7301 Executive Way in Frederick to put air in his tires. He decided to try his luck with the "Show me One-Million Dollars" game, and he won. "My first thought was that it  was $100,000," the winner told the Lottery  when claiming his prize last week. "But as I looked closer, I realized it was  $1-million."
The Lottery says the man went straight home to tell his wife. "She didn't believe it until I showed her the ticket," the man told Maryland Lottery officials. "She just cried and cried."
The winner is a retired milling company employee, who continues to work part time in the industry.
The Maryland Lottery says the man,  who is a grandfather and great-grandfather,  says he won't tell his children and their children about the lottery win, but will help them as needed without saying where the money is coming from He also says he will put some of the mosey toward a housie he's having built. Whatever is left, he will save for when he fully retired.
The Sheetz store 730 Executive Way will be receiving a $1,000 bonus for selling the wining lottery ticket.
By Kevin McManus