He talked  about the economy to an audience of workers, local officials.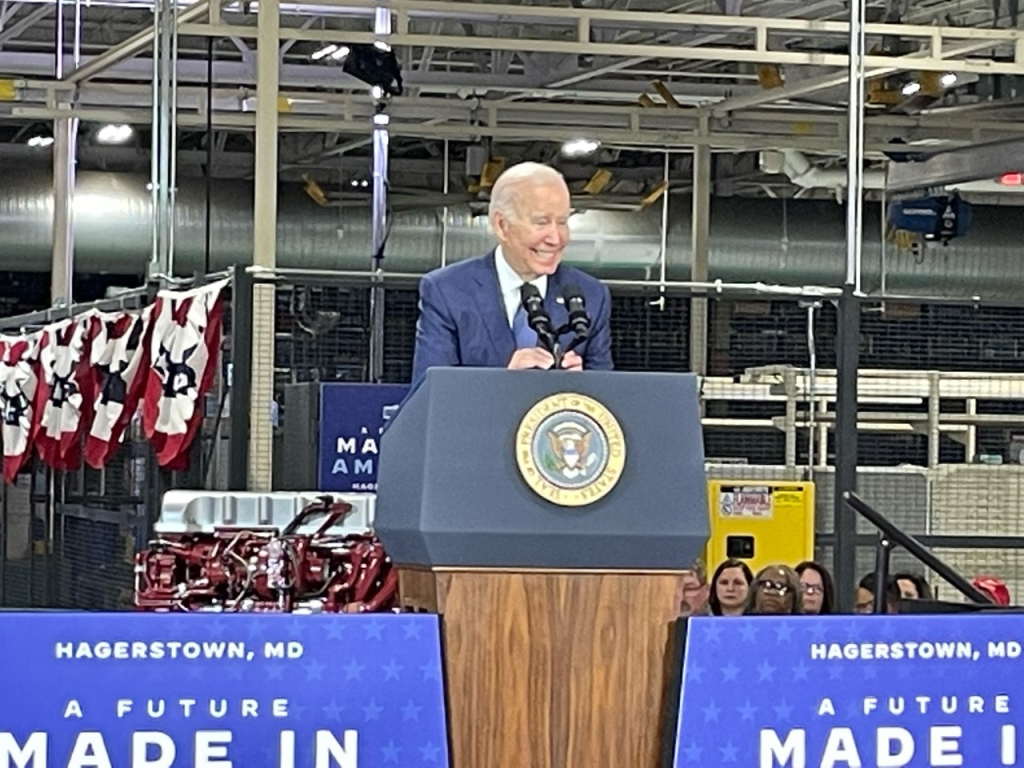 President Biden at Volvo Plant in Hagerstown, Oct. 7th, 2022.
Hagerstown, Md (KM) President Joe Biden talked up the economy during a visit on Friday to the Volvo plant in Hagerstown. He told employees he's the most pro-union president in US history "The reason I'm the most pro-union president in American history is because you're the single best workers in the world," he said to applause from employees.
The President visited the Volvo plant on the day the US Department of Labor released its monthly jobs report which says businesses continued hiring at a brisk pace, unemployment fell to a half-century low and average pay rose. "Our economy created 253,000 jobs last month. That's 10-million jobs since I came into office. That's the fastest job growth at any point of any president in all of American history. Historic progress. Unemployment remains at historic lows, 3.5% unemployment," he said.
On  National Manufacturing Day, Biden said he's confident in the US economy. "And we all know, the last four and five years, a lot of things have been tough for people. A lot things have been tough and are still tough for many. But there are also bright spots where America is reasserting its power, where Americans are reasserting themselves," the President said.
He also talked about building a new economy. "A better one, a stronger one. Not a trickle down economy. That never helped my family very much in Claymont, trickle down," Biden said, mentioning his home town in Delaware. "This is an economy building up from the middle out to the bottom up, not from the top down. And when that happens, everyone does well."
Because 2022 is a midterm election year, President Biden touted his Anti-Inflation Act which he said would be repealed if Republicans win a majority in Congress. "If Republicans take control of Congress means the power we just gave Medicare to negotiate drug prices goes away; gone. Prices go back up. If Republicans take control of the Congress, the $2,000 cap on prescription drug costs we just passed goes away; gone. If they take the control of the Congress, the $35 a month cap on insulin for folks on Medicare we just passed, goes away; gone," he said.
Biden also said Republicans have promised to repeal the Affordable Care Act, and make drastic changes to Social Security if they take control of Congress.
The President also expressed his support for Democratic Incumbent Representative David Trone who is in a tight re-election race with GOP challenge Neil Parrott. "It's great to with Congressman David Trone who is always, always. always working for the working people of this district on mental health and addiction and support of our veterans, and modernizing infrastructure like expanding I-81. It's going to be expanded because of him," Biden said to applause from the audience. .
By Kevin McManus