It's the only debate these two candidatures will hold this year.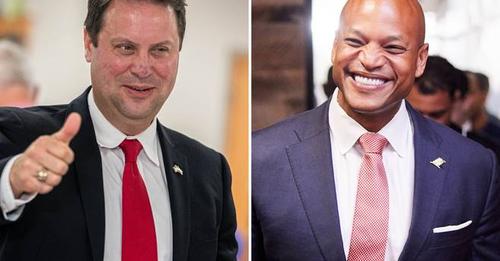 Dan Cox (R)                                                                   Wes Moore (D)
Owings Mills, Md (KM) The two Maryland gubernatorial candidates debated a number of issues Wednesday night. They included abortion, crime, public education and whether either one of them would accept the results of the 2022 election. But they also took potshots at each other.
Democrat Wes Moore said he will be e working on making Maryland a better place. "Like ensuring we have a 21st century education system for all of our children; ensuring that we can keep our neighborhoods safe; ensuring that we can have an economy that grows and benefits everybody instead of delving into conspiracy theories that my opponents continues to throw out,": he said.
"i think that's prosperous. I need to respond," said Republican candidate Dan Cox. "This is outrageous and ridiculous. We are bigger than middle school name-calling,  sir. We have to get about the business of the state."
To start off the debate, Cox was asked if he would accept the results of the election. "Well, I have always accepted election results that are fair and following the Constitution. I intend to uphold the law and the Constitution," he said.
Moore said Maryland has a free an fair election system. "We are proud of the election process that we have here in the state of Maryland," he said. "And I will honor the results of the election, and I'm hoping my opponent will do the same."
Cox provided legal support for former President Donald Trump who refused to acknowledged he lost the 2022 election. In addition Cox also finance buses to take demonstrators to Washington DC for Trump's rally prior to the assault on the US Capitol.
During Wednesday's debate, a question about how inflation impacts Black Marylanders and what each candidate plans  to do about turned into a discussion about reparations  for slavery. Cox charged Moore with supporting reparations. "My opponent stated on record that he's for reparations. This is an extreme, and inappropriate and divisive approach to healing the divides that we all know and love to see healed," he said.
Moore denied that. "My opponent when asked a question about education used it to say something i did not say," he said. "This is part of his dangerous rhetoric, this divisive rhetoric that will frankly move our state backwards."
On the issue of abortion, Moore called abortion health fare, and said Cox would criminalize the procedure. "And when the Supreme Court made the decision to rob millions of women of health care, my opponent then the same day praised the Supreme Court and praised Donald Trump," he said. "So my opponent is very clear about where he stands on health care. He's very clear on the fact that he would criminalize abortion even in the case of incest and rape."
Cox, who calls himself pro-life, denied it. "That is absolutely false. In fact, if you look at the abortion legislation, the pro-life bills I put in to the Legislature, where I've actually had to work on this across the aisle with my colleagues, I have had the three exception in the law. I believe that is a legal process that should be followed. And the whole stating of criminalization: absolutely false."
Cox is a Delegate who represents parts of Frederick County in the General Assembly.
The debate was broadcast Wednesday night on Maryland Public Television, WBAL-TV and radio in Baltimore, and WRC-TV in Washington DC.
Election day is Tuesday, November 8th. Early voting starts on Thursday, October 27th, and continues through Thursday, November 3rd.
By Kevin McManus