It's expected to begin on Wed. Nov. 23rd.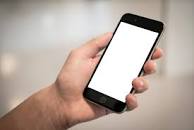 Annapolis, Md (KM) Marylanders can begin using their mobile phones this week to bet on sporting events. Governor Larry Hogan announced on Tuesday that mobile sports betting will start on Wednesday at 9:00 AM.
"We're excited that this launch is in time for fans to place their bets on all the Thanksgiving Day NFL action, college football rivalry weekend, this week's slate of NBA games, the 2022 World Cup and this Sunday's Ravens and Commanders games," he said.
The Governor said revenues raised from sports betting will be used for public schools in the state. "It's anticipated to bring in up to $30-million in revenue next year, and that total is expected to reach $100-million by 2027," says Hogan.
Lottery and Gaming Director John Martin says seven mobile sportsbooks are expected to go on line on Wednesday at 9:00 AM. They are Barstool Sportsbook (operator for PENN Maryland/Hollywood Casino); BetMGM (operator for BetMGM Maryland Sports/MGM National Harbor); BetRivers (operator for Arundel Amusements/Bingo World in Brooklyn Park); Caesars Sportsbook (operator for CZR Maryland Mobile Opportunity/Horseshoe Casino in Baltimore); DraftKings (operator for Crown MD Online Gaming); FanDuel (operator for PPE Maryland Mobile/Live Casino and Hotel in Hanover); and PointsBet (operator for Riverboat on the Potomac in Charles County).
Martin says there are three entities which have been awarded licenses, but won't be able to launch on Wednesday; one of them is Long Shots in Frederick The others are BetPax (operator for Greenmount Station In Hampstead), and Fanatic (operator for Maryland Stadium Sub/Washington Commanders in Landover.)
He says the Lottery and Gaming Commission is working with these three entities to get them up and running as soon as possible.
"We anticipate that in late spring, early summer of 2023–prior to kickoff of the next football season–the Maryland market will include up to 21 mobile entities, and 15 facility licenses," he says.
With more gambling opportunities in Maryland comes the issue of problem gambling. "All mobile platform providers offer player protections to manager their time and money spent," says Martin. "If you or someone you know has a gambling problem, call 1-800-GAMBLER for resources and assistance. Please play responsibly."
He says playing responsibly means having a game plan, having some fun, setting a budget and sticking to it.
By Kevin McManus