The total amount is $113,000.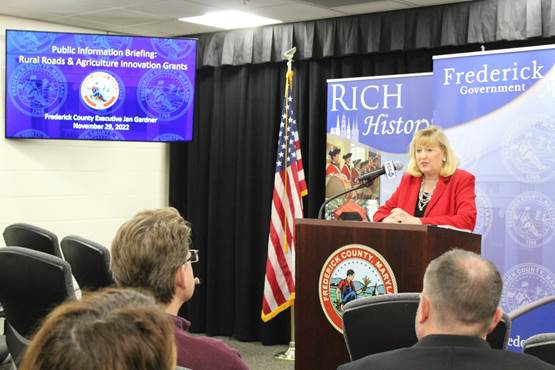 County Executive Jan Gardner (Photo from Frederick County Government)
Frederick, Md (KM) Nine local farms and farming operations are receiving Frederick County Agriculture Innovation Grants for fall 2022. . County Executive Jan Gardner says these grants  help ensure that the agriculture industry continues to thrive. "And agriculture is still an important industry to Frederick County. It accounts for $150-million in sales each year, and it generates an economic impact of $1.5-billion to our community," she says.
During her public information briefing on Tuesday, Gardner said leaving a legacy of agriculture is one of her top priorities, and that's being accomplished in a number of ways. "First, we have to preserve our best and most productive farmland. And we are doing that through our agricultural preservation initiatives, and we're doing that with a record level of investment in those programs," she says. "Second, we've worked to make sure that agriculture is an economically viable industry, and that's where the agriculture innovation grants come in."
The recipients of these grants are:
*District Farm in Frederick to establish an autonomous nutrient management program for their vegetable operations.
*Fingerboard Farm in Ijamsville to purchase a well to provide irrigation to their crops.
*The Kombucha Lady in Rocky Ridge  to expand storage space and add a refrigerator.
*Moo Cow Creamery in Middletown to install a walk-in refrigerator/freezer to allow for increased direct-to-consumer sales of chicken and beef.
*Moon Valley Farm in Woodsboro to convert one greenhouse into  full-time microgreen production and to equip a second greenhouse for seedlings.
*Richvale Farm in the Middletown Valley to purchase a walk-in freezer so they can offer more direct-to-consumer beef sales.
*Stone Pillar Farm on Mount Phillip Road west of Frederick to upgrade their poultry facility and equipment,.
*Summer Creek Farm in Thurmont to convert silage wagons from diesel to electric, and develop a power take-off generator
*Valley View Acres outside of Middletown to install a well to feed the irrigation system.
Gardner says there was a lot of interest in the program. "So we weren't  able to fund everything that is requested. When all the applications were added up, we had requests for about $650,000, and the selection committee recommended  awards to nine operations for a total of $113,000," she says.
Gardner says the funding for this program comes from a part of the recorded tax on property transfers.
By Kevin McManus