The accident was a head-on collision.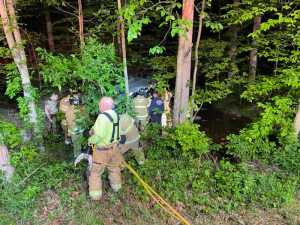 (Photo courtesy of Frederick County Fire and Rescue's Facebook page)

UPDATE-An accident early Friday morning claimed the life of a Frederick man on Route 77 in Thurmont.
Shortly before 5 A-M, Maryland State Police responded to Route 77 near Park Central Road. The accident involved a car driven by 25-year-old Dustin Crummit, and a pick-up truck driven by 28-year-old Phillip Gates of Sabillasville.
According to police, Gates was traveling east on Route 77 and tried to pass another vehicle, and hit the vehicle Crummitt was driving head-on. Crummitt was pronounced dead at the scene. Gates was not injured.
The accident remains under investigation.