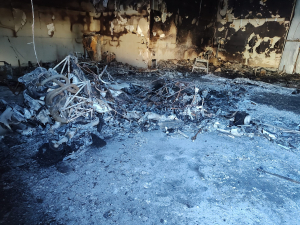 Arson ruled out but exact cause under investigation.

Leesburg, VA (LR) A hangar fire has damaged nine airplanes at Leesburg Executive Airport.
Three of the aircraft, a Cessna Cardinal and two Cirrus piston singles, are described as substantially damaged or destroyed, according to the Town of Leesburg government.
The Loudoun County Fire Marshal has not yet determined the exact cause of the early Sunday morning fire, but arson has been ruled out. The marshal says the location of the fire in the BT Hangar has been found.
A Leesburg police officer on patrol reported the fire around 2:00 a.m. Sunday, and the town government says it didn't take long for Loudoun County Fire and Rescue to extinguish the fire.
No one was injured. In addition to the three heavily-damaged airplanes, at least six other aircraft and hangars are covered in "stinky soot" in the words of the town government. More damage may be identified later.
The BT Hangar is located at the north end of the airfield, and Leesburg Executive Airport remains open for business.