The Department says this will expand recreational opportunities in the region.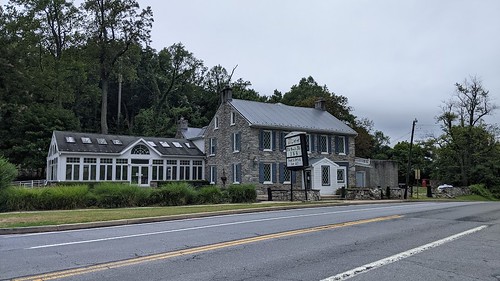 Old South Mountain Inn (Photo from Md. Department Of Natural Resources)
The Old South Mountain Inn property has a new owner. The Maryland Department of Natural Resource has purchased the more than 3.15-acree site from current owners,  Chad and Lisa Dorsey, for $1.97 million.   The money comes from Program Open Space.
"Maryland is continuing to meet the growing need for more public spaces and parks by purchasing and conserving properties through Program Open Space," says Maryland Department of Natural Resources Secretary Josh Kurtz, in a statement. "The addition of the Old South Mountain In property will add a historic gem to state lands near Boonsboro that already includes several popular parks in the South Mountain Recreation Areas."
The property is mostly forested, and DNR says it will bring additional recreational opportunities to residents in Frederick and Washington Counties. It will be managed by the Maryland Park Service.
The Old South Mountain Inn will be used as a visitors center.
The Inn was recognized as one of the oldest restaurants in Maryland.  Founded in 1732, it was first used as a wagon stop for  travelers  along the Old National Pike. The Inn was private residence from the 1870's to the 1920's. Later, it became a tavern and a restaurant.
"The department is proud to purchase this historic Maryland property to ensure it's accessible to visitors and preserved for generations," said Land Acquisition and Planning Director Hillary Bell, in a statement. "The new land will buffer the Appalachian National Scenic Trail, expand the area of  South Mountain State Park, and provide more forest habitat for birds and other wildlife."
"We fell in love with this property and are proud to have been part of its history for over 20 years,' said Chad Dorsey, the former owner, in a statement. "We are grateful to the many patrons, supporters and friends of Old South Mountain Inn and were delighted that the property will be protected for future generations as part of South Mountain State Park."
By Kevin McManus