It will be on a first come, first serve basis.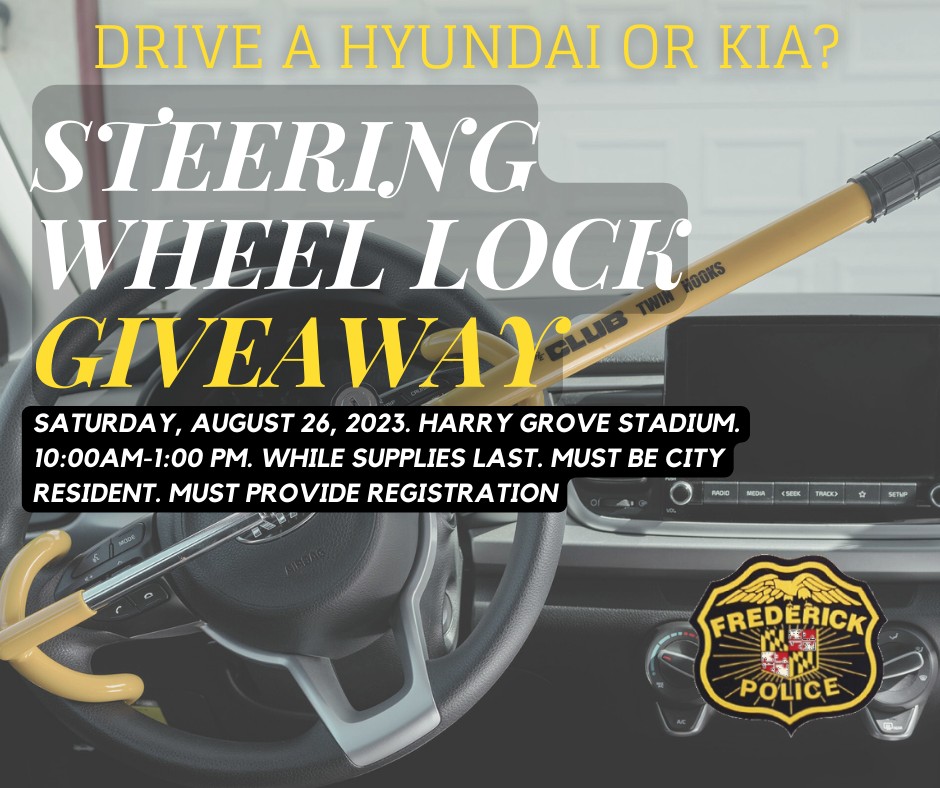 Frederick, Md (KM) Frederick Police will be distributing free steering wheel locks for the owners of Hyundai and Kia vehicles. This is in response to the increasing trend of thefts of these makes of cars.
The giveaway will take place on Saturday, August 26th from 10:00 AM until 1:00 PM at Nymeo Field Harry Grove Stadium. Only Frederick city residents who own Hyundai and Kia vehicles are eligible for the free steering wheel locks.
Police say supplies of these steering wheel locks are limited, and due to the anticipated high demand, residents are encourage to come early. They need to bring a valid driver's license with proof of residency in the city, along with a vehicle registration confirming their ownership of a 2010 to 2016 Hyundai or Kia with a mechanical key. Push start vehicles do not qualify for this program.
Thieves have been using USB cables to bypass the ignition systems on certain Hyundai and Kia models, police say.
"The steering wheel locks offer an extra layer of protection for Hyundai and Kia owners," says Lt. Jon Holler, Commander of the Frederick Police Criminal Investigations Division, in a statement. "We are committed to prioritizing the safety of our residents and providing our community with reassurance regarding the security of their vehicles."
By Kevin McManus