Police continue to investigate.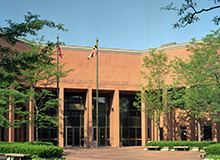 Frederick County Court House
Frederick, Md (KM) The suspect in a fatal shooting on Wednesday in Frederick will remain behind bars. In District Court on Friday, Judge Eric Schaffer ordered Kevin Eugene Mack, 42, of York, Pennsylvania to be held without bond.
He is charged with 1st-degree murder, 2nd-degree murder and a firearms offense for the shooting death of Kagina Marie Brown,19, also of Pennsylvania.
Late Wednesday night, police responded to an apartment in the 100 block of Willowdale Drive for a shooting. They found Brown with multiple gunshot wounds. She was transported to Frederick Health Hospital where she was pronounced dead.
No motive has been determined in the shooting, according to authorities.
By Kevin McManus