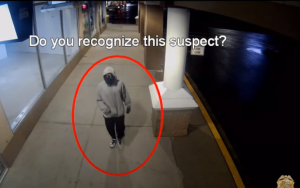 Montgomery County, Md. (BW)- Montgomery County Police have released the surveillance footage of an attempted armed robbery that occurred in Silver Spring on Sunday, Sept 17.
Police are asking for the public's help identifying the suspect.
The suspect is described as a 5′ 10″ male approximately 20-years-old. He was wearing a grey hooded sweatshirt with black pants and black and white shoes. The suspect also had on a black mask and black goggles.
Around 8:16 p.m. the suspect entered the Boston Market in the 3800 block of Aspen Hill Road and demanded money from an employee. The employee did not comply with demands and was sprayed in the face with pepper spray by the suspect. The suspect than fled the restaurant.
Anyone with information about this incident or the suspect is asked to call 1-866-411-8477. A reward of up to $10,000 is being offered to anyone with information that leads to the arrest of the suspect. Callers may remain anonymous