Nomination packets are available.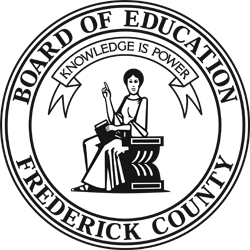 Frederick, Md (KM) Nominations from  sophomores and juniors in Frederick County Public Schools who want to serve as student representative on the Board of Education are being taken. . Interested students can pick up a packet from their student government adviser,  or go on line to www.fcps.org/boe/Student-Board-Member-Election.
Their nomination materials must be submitted electronically to [email protected] by Monday, October 30th by 4:00 PM. The materials should  include the nomination form, letter of recommendation and question response.
Following that, a selection panel including members of the Frederick County Government of Student Councils (FCASC) Board, Student Government Association (SGA) advisors and other district personnel will review the applications, and do in-person interviews at the School System's Center Office at 191 South East Street  on November 7th from 3:00 PM to 5:00 PM. The committee is expected to narrow the field down to five candidates.
There will be a candidates' orientation on November 15th. Those selected will present speeches at the December 11th, FCASC General Assembly and participate in a Candidates Town Hall on Thursday, January 4th,  4:30 PM to 7:00 PM at the School System's Central  Office building. Each candidate for the Board of Education student seat will submit a one-page statement which will be posted on line.
On line voting will  take place from January 4h through January 26h for students in all middle and high schools. The School System says the voting will  determine  which  candidate the SGA representative will support during a General  Assembly on  February 6th.
The FCASC will submit  the name of the candidate with the majority of votes cast by school delegates to Superintendent of Schools Dr. Cheryl Dyson. The new student School  Board member will shadow the outgoing member in May and June. .The new student representative will sit on the School Board during the 2024 and 2025 academic year.
The person chosen as the student member of the School Board will represent the students'  viewpoints, and help improve communications between the student body and the Board of Education, according to the School System.
By Kevin McManus