It encourages Marylanders to get vaccinated against the flu, COVID-19, RSV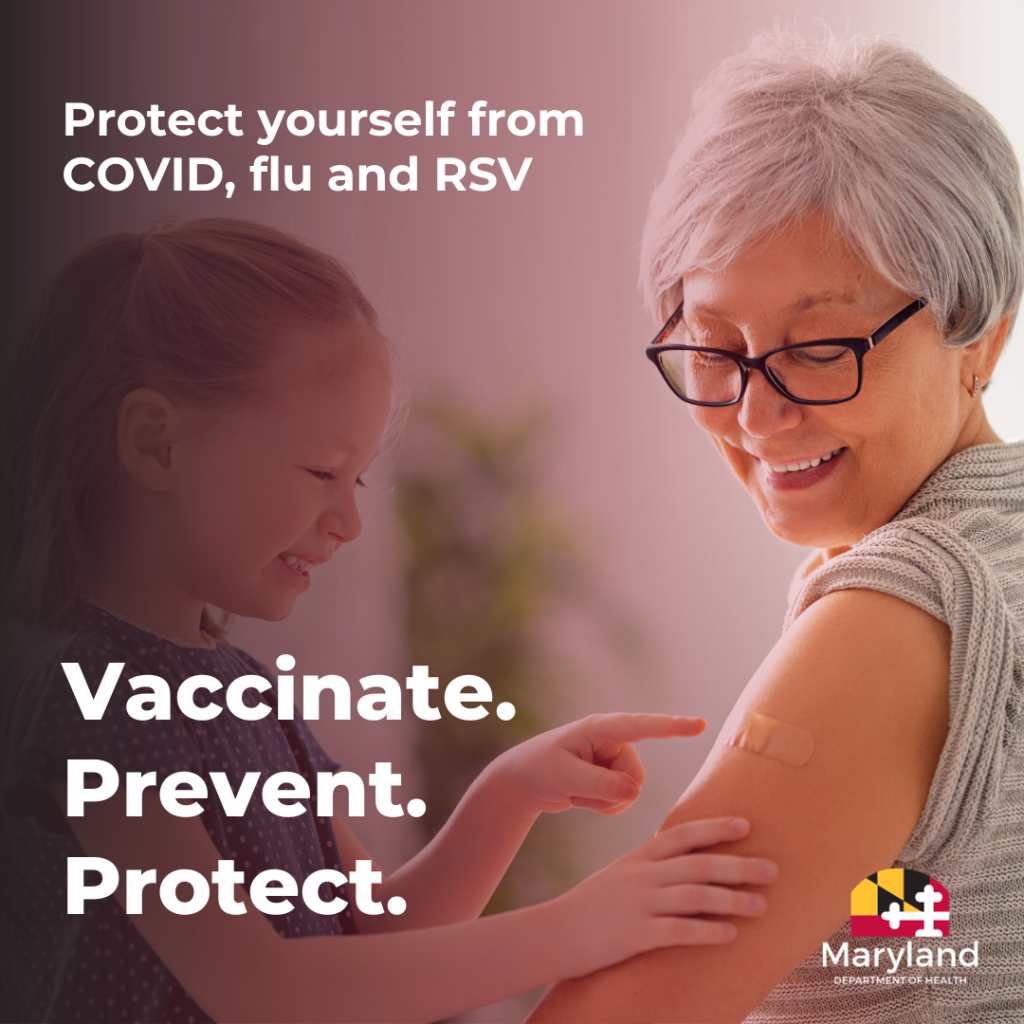 Baltimore, Md (KM) "Vaccinate, Prevent, Protect" is a new campaign launched by the Maryland Department of Health  to remind citizens to get their  flu and COVID-19 shots, and their RSV vaccines if they're an older adult or a pregnant woman. "The first line of defense is prevention, and we can use these tools, these vaccines, to protect ourselves, our loved ones and to stay healthy this year,": says Elizabeth Kromm, Director of the Prevention and Health Promotion Administration  within the Maryland Department of Health.
Kromm says the Health Department launched this campaign to remind residents that even though there has not been a spike in the flu or COVID-19 so far this  year,  it's not a good idea to get too complaisant.  "Now that we're  done with the public health emergency and we're in our new normal of activity, many folks just might not have this on the  top of their to-do list. So I think it's a really helpful reminder to get your vaccines updated," she says.
Along with the flu and COVID-19, Kromm says Marylanders who are 60 and older or pregnant women need to get vaccinated against RSV.    "These are newer and so that can  cause some folks  to take a pause," she says. "The studies that led to their approval show that they significantly reduce the risk of hospitalization from this virus."
Citing statistics from the Centers for Disease Control and Prevention, Kromm says last year there were  19,000 deaths from the flu, and  tens of thousands of persons  who were hospitalized.  Also, she says, RSV is the number-one cause of hospitalizations for children under three, and more than one-million Americans have died from COVID-19 since 2020. "These viruses can be very dangerous," she says. "On the flip side, the good news is that  the COVID, flu and RSV vaccines they are all FDA approved and authorized. which means that they've gone through rigorous testing and studies. They've been licensed for use. And there are many layers of safety surveillance that come along with this as vaccines are distributed."
Kromm says residents who want to know more about these vaccines and where they can receive these shots can speak with their primary care provider, or go on line to health.maryland.gov/pha. They can also contact their local health department. The web site vaccines.gov can help residents find locations where they can get their flu and COVID-19 shots. .
By Kevin McManus