They took part in a ribbon cutting for the Family Support Services Center,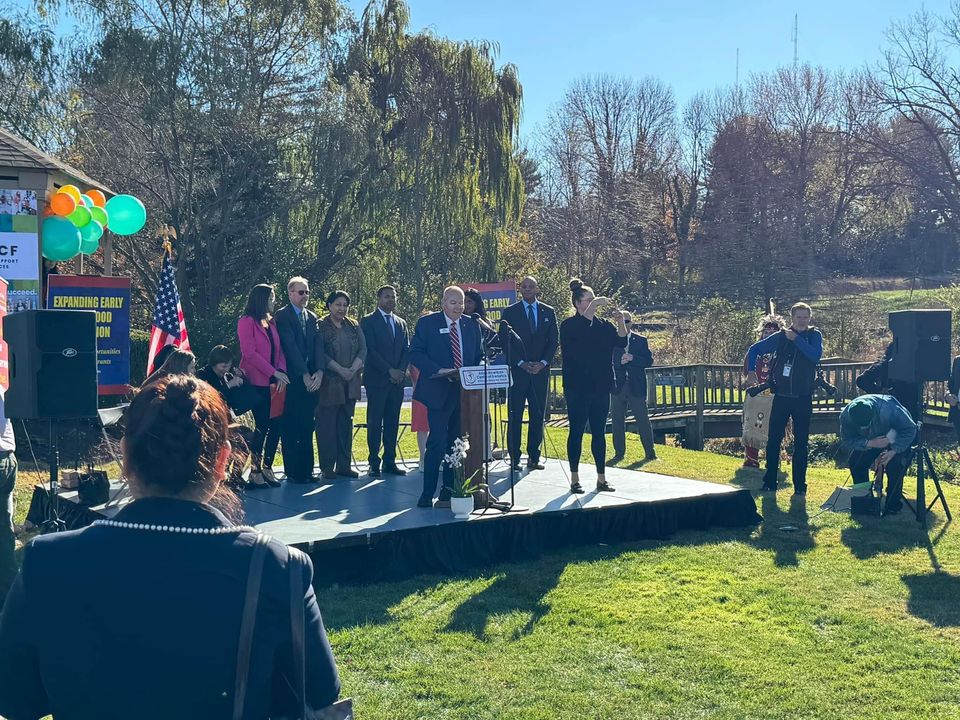 Governor, Lt. Governor, visiting the Family Support Services Center, Nov. 14th, 2023
Frederick, Md (KM) A ribbon cutting ceremony formally opening the Family Support Services Center in Frederick took place on Tuesday morning. The  center, located at a former VFW building at 5901 Old National Pike along the Golden Mile, provides child care for children up to age three while their parents undergo job training, English language instruction, nutrition assistance, help in getting health care and assistance in getting through the immigration process.
The Center, operated by the Asian-American Center of Frederick, was designed to serve the immigrant and minority populations.
On hand for the ribbon cutting was Governor Wes Moore, and Lieutenant Governor Aruna Miller. "We stand here on hallowed ground because we understand this is not just a place where we're making tangible progress, but where dreams are realized," Governor Moore said,
He also talked about service, and how it can save us. "Service will us from the vitriol. Service will save us from the political divisiveness. Service will save us from the small mindedness. Service will save us, and we are thankful," Governor Moore.
The Governor further discussed service. "That you are serving as the antidote. You are serving as the solution. You all are serving as the answer. You are serving as the example. And I tell right now, you are the first group. You are the first group of Marylanders who  raised your hand. I can tell you right now. The whole country is watching," Moore said to applause from the audience.
Speaking about the center, Governor Moore said this facility will protect future citizens. "They'll be the ones who make it better. They will be the ones to help us make a state that those who came before us that they hoped for. And those that come after us that they deserve," he said.
The Governor and Lieutenant Governor also visited the site for the proposed downtown hotel and conference center in the 200 block of East Patrick Street. They heard a presentation from Chamber of Commerce President and Chief  Executive Officer Rick Weldon, County Executive Jessica Fitzwater and Frederick Mayor Michael O'Connor.
The project has discussed for several years.  . It's expected to encompass 21,500 square feet, which includes 207 rooms and a 250-space public parking garage. It will be located along the Carroll Creek Park in the downtown.
The hotel is expected to bring in $61-million in new spending, and $4-million  in state and local tax revenue.
By Kevin McManus