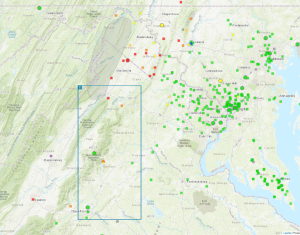 Frederick, Md. (BW)- The smoke from a wildfire in Shenandoah National Park is making it's way into some part of Maryland.
The smoke can be seen and smelt in areas in Central and Western Maryland, as well as Southern Pennsylvania and West Virginia.
According to WMAR Channel 2 out of Baltimore, the smoke is not expected to affect the air quality in these areas.
The location of the fire is just east of Harrisonburg, Virginia, around 140 miles from Frederick.